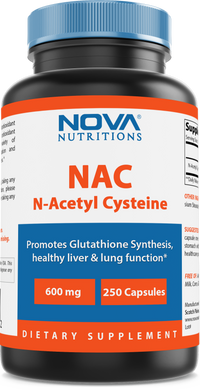 Nova Nutritions N-Acetyl L-Cysteine (NAC) 600mg - 250 Capsules
OUR NAC N-Acetyl Cysteine CAPSULES ARE Free of Yeast, Corn, Wheat, Soy, Milk, Salt, Sugar, Starch, Preservatives, Artificial Colors, Artificial Flavors, Artificial Sweeteners.

It is stable form of the non-essential amino acid, It contains sulfur which has typical smell

Our NAC 600mg Pills maintains cellular health & free radical antioxidant protection

Each Capsule contains 600 mg of NAC - 250 Capsules per bottle

GMP & MADE IN THE USA - We use only the finest ingredients, all of which are manufactured in our US, GMP compliant, state-of-the-art, facility. Every batch is laboratory tested for quality assurance.