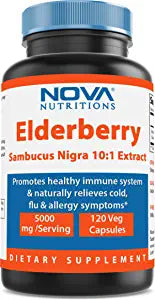 Nova Nutrition's Elderberry Sambucus Nigra 10:1 Extract, 5000mg Equivalent, 120 Veg Capsules
OUR ELDERBERRY CAPSULES ARE Free of Yeast, Corn, Wheat, Soy, Milk, Salt, Sugar, Starch, Preservatives, Artificial Colors, Artificial Flavors, Artificial Sweeteners.

Elderberry Pills promote healthy immune system*

Elderberry 500mg naturally relieves cold, flu & allergy symptoms.*

Each capsule contains 500mg 10:1 Extract (equivalent to 5000mg elderberry) - 120 Capsules per bottle

GMP & MADE IN THE USA - We use only the finest ingredients, all of which are manufactured in our US, GMP compliant, state-of-the-art, facility. Every batch is laboratory tested for quality assurance.